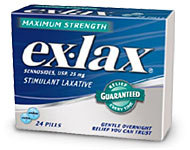 2 of 3 please, LOL!!!! So anyone who's had a colonoscopy is FULLY aware of the prep needed for the procedure which typically encompasses 2 of these 3 laxative medications, so I'll spare you the details of exactly how that experience went. Suffice it to say that not only had I not eaten a thing in almost 48 hours (what da' hell was I thinking when I scheduled it for 1:00 in the PM??),I didn't get one wink of sleep last night because I was "busy" doing other things, LOL!!! And the funny thing is that I couldn't stop laughing about it until it was time to go to the facility where I was having the procedure. Then I started thinking about all the symptoms I'd had over the past year and the fact that my Dad died from colon and prostate cancer in 2001. Long story short, my colon looks good but the junction between my stomach and esophagus does not, so I'll be on yet another medication for acid reflux, which I didn't know I had in the first place.
In other happenings, I took my kid to the dentist and was called a coward for letting MY fear of dentists (and her last BAD interaction with one) cause me to let more than one year go by before her next appointment with the Dentist. And now she has her very first cavity at the age of 15. Okay, I guess I get the bad Mom award, but I really like her ol' school, white male, white haired Dentist who had no problems lecturing me on the importance of maintaining good oral care. Point taken, Doc. K!!!
Speaking of cowards, looks like my out spokeness may have ruffled the prim and proper feathers of yet another member of a premed web site I frequent, this one for women. Interesting theme I notice from some women whom I usually classify as "entitled", a little heated debate causes them to "run for the hills", LOL!!! Well as the young kids say, "don't start nothin', won't be nothin'", especially when you're implying something as stupid as young medical students learn better than older ones, and that anyone over age >25 is OLD for a med student! Yeah, that's gonna rub me the wrong way EVERY SINGLE TIME!!!!!